From the sun-drenched beaches to the little secluded islands, Goa is filled with nature's unique gifts. The stunning waterfalls in Goa further adds to its beauty. It enormous milky Dudhsagar Waterfalls is the most know to the human race. Here are few others that are a must visit when travelling thru Goa during Monsoons
1. Hivre Waterfalls – Paradisiacal Marvel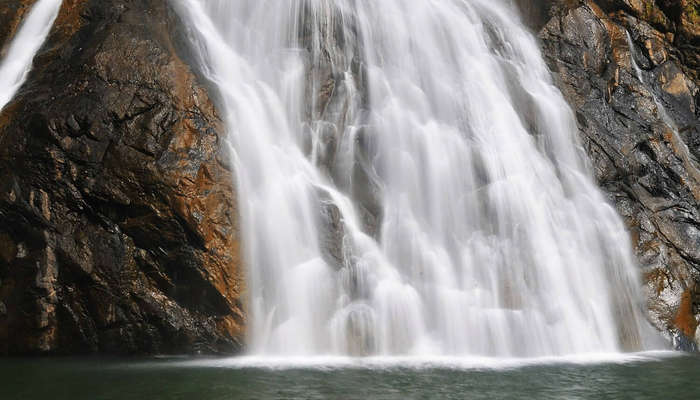 As one of the popular waterfalls in Valpoi Goa. Hivre Waterfalls attract not only nature lovers and tourist, but also hard core trekkers. Frequently visited by locals and tourists, it stays crowded during weekends. It is definitely the best waterfall in Goa. It is among the best places to visit in summer in Goa.
How To Reach Hivre Waterfalls: Situated 14 kms from Valpoi City, one needs to travel through Thane village to reach Hivre falls.
Things To Do At Hivre Waterfalls: Advance level Trekking
Stay Options Near Hivre Waterfalls: Mostly homestays are found in Valpoi region. One of the best homestays is Cajueiro Homestead.
Other Attractions Near Hivre Waterfalls: Nanuz Fort, Tambdi Surla, and Sri Mahadev Temple
2. Tambadi Surla Waterfalls – A Refreshing Escape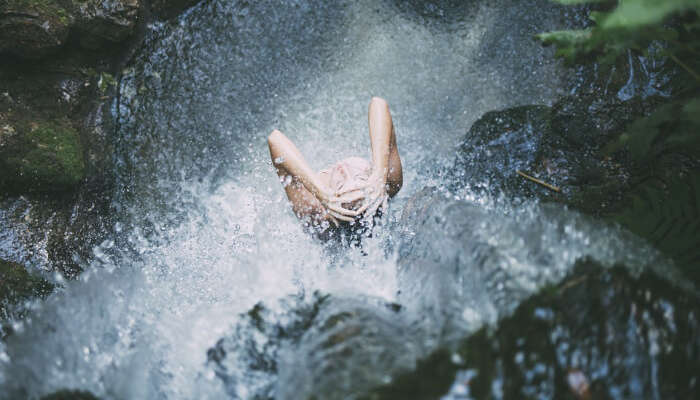 Counted as one of the mesmeric waterfalls in north Goa, There is no death of natural attractions from nature reserves to beaches in North Goa. Tambadi Surla is an unconventional name among tourists. The dense jungle encircling the cascade, mystic beauty, and heritage temple at the bottom are the elements of charm of the sight. Hiking through Bhagwan Mahavir Wildlife Sanctuary will take you to Tambadi Surla.
How To Reach Tambadi Surla Waterfalls: Arrive at Carnazol, off NH 4A and trek through the sanctuary to reach up to the falls.
Things To Do At Tambadi Surla Waterfalls: Spotting flora and fauna in Bhagwan Mahavir Wildlife Sanctuary
Stay Options Near Tambadi Surla Waterfalls: Nature's Nest
Other Attractions Near Tambadi Surla Waterfalls: Tamdi Surla temple, also known as Mahadev Temple
3. Dudhsagar Waterfalls – Most Popular One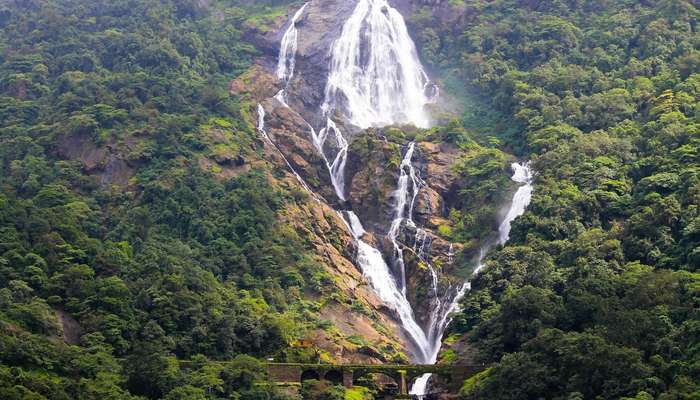 Originating from the Mandovi River, Dudhsagar falls is incontestably one of the most beautiful waterfalls in India. Plunging down from a height of 130 m, right along the Goa Karnataka border, this stunning four tier waterfall fascinates tourist with the beauty of its foamy and milky water, gushing sound, and surrounding greenery.
How To Reach Dudhsagar Waterfalls: If you are travelling by train, get down at Kulem which is 8 km from Dudhsagar Falls that needs to be covered by foot, or on a retal bike available at Kulem or by hopping on to a train to Dudhsagar.
Things To Do At Dudhsagar Waterfalls: Overnight camping in the surrounding forest.
Stay Options Near Dudhsagar Waterfalls: One needs to book hotels, guest houses or homestays in Kulem, which is 8 km from Dudhsagar. Popular stay options are Dudhsagar River Side Rooms, Jungle Book, and Dudhsagar Spa Resort – a GTDC property.
Other Attractions Near Dudhsagar Waterfalls: Shayadri Spice Farm and Bhagwan Mahavir Wildlife Sanctuary
4. Arvalem Waterfalls – For It's Gushing Stream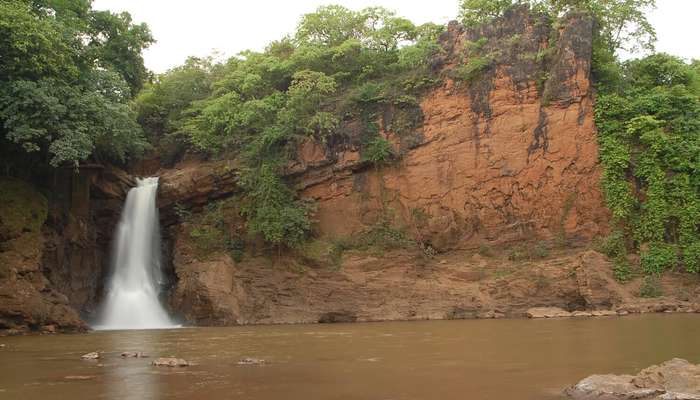 Popular as Harvalem waterfalls, this is a gushing stream cascading down from a verdant hillock of 50 mtr altitude, near Sanquelim village. Arvalem waterfall is one of the most popular waterfalls in Goa with a park and a viewing area, where local people can relax and rejoice the beauty. It is among the best tourist places in Goa.
How To Reach Arvalem Waterfalls: Sanquelim is the nearest railhead which is 2 kms away. One can also avail regular bus services or rental bikes from Panaji as well.
Things To Do At Arvalem Waterfalls: Day picnic and swimming
Stay Options Near Arvalem Waterfalls: Sanquelim, Bicholim, Mayem Lakeview, Backwoods Camp, and Vila Nova Resort.
Other Attractions Near Arvalem Waterfalls: Arvalem Rock Cut caves and Rudreshwar temple. For the adventure freaks, travel up to Valpoi village (12 kms) to enjoy white water rafting.
5. Kalsa Waterfall – A Trekker's Paradise
Tucked into the dense forest of Kankumbi at the border of Goa and Karnataka, being one of the famous waterfalls in Goa, this place is a precious gem for trekkers and nature lovers. The sheer thrill of walking through the forest, crossing the river, and trekking one's way forward to reach the destination is fully rewarded by the waterfall itself. The majestic down pouring over the rocks with its presence will definitely leave the trekker mesmerized. This place is open through the year, and guided treks are organized regularly.
Best Time To Visit: July to March
How To Reach: Drive 68 kms from Panaji to reach Kankumbi forest, and trek through the forest to reach Kalsa fall.
Time Required: 2 hours
Things To Do At Kalsa Waterfall: Photography
Stay Options Near Kalsa Waterfall: N.A
Other Attractions Near Kalsa Waterfall: N.A
Suggested Read: 14 Best Picnic Spots In Goa For A Great Time In 2021
6. Surla Waterfall – Scenic Beauty Of Surla Village
Surla Waterfall is situated at roughly 50 kms from Belagavi, a scenic destination for travelers. The magnificent waterfall can be reached by trekking through the jungle; the trekking trail passes through the Surla village for about 2kms. This 200-300meter high beauty is one of the best waterfalls in Goa for travelers who search for a fall in the dense lush jungle.
Best Time To Visit: July to November
How To Reach: Drive 76kms through Hathkhamba-Goa Road from Panaji
Time Required: 2.30 hours
Things To Do At Surla Waterfall: Explore the scenic beauty, photography
Stay Options Near Surla Waterfall: N.A
Other Attractions Near Surla Waterfall: N.A