I moved to Bangalore for work. In middle of the pandemic, when the world was indoors, my luck took me to this to the country's high-tech industry, Bengaluru is popularly known as the Silicon Valley of India. Not just this, the city is blessed with mesmerizing natural beauty too, owing to its location on the Deccan Plateau. Bengaluru provides a unique share of experience on both the urban and the rural unexplored region around it. When tired and in search of serenity, there are plenty of places to visit near by. Here is a list of few destinations that one can travel in a day. The only way to send quality time in a pandemic is to be away from people., from the crowd, and from anything and everything that can be accessed by the human race.
Here are few offbeat weekend getaways that I will be able to explore in the few months I am in Bangalore
Nandi Hills
If you are a mountain enthusiast seeking for a break from the city hush bash, a popular places to visit in a day is the Nandi Hills. One can witness fantastic views of the lush landscape from a cliff. Nandi Hills is also a place for history buffs with remnants of Tipu's Fort and the ancient temples that reign over this hill fortress. This place derives its name from the famous statue of Nandi (the Bull) placed at the door of Yoganandeeshwara Temple
Places to Visit in Nandi Hills:
Tipu's Drop
Tipu Sultan's Fort
Brahmashram
Muddenahalli
Best Time to Visit Nandi Hills: Between the months of August to March
Chitradurga Fort
Chitradurga Fort or as the British called it Chitaldoorg, is a fortification that straddles several hills overlooking a flat valley in the Chitradurga District. True to its name, this fort offers stunning views and a calm, tranquil environment.
Read: A Visit to Chitradurga Fort
READ MORE ON TRIPS IN KARNATAKA
Shettihalli Church
The state is a home to 19th-century French missionaries, who have left a mark on the architecture of the region. One such region with a discernible French hangover is the village of Shettihalli, located in the Hassan district of Karnataka. It is offbeat in every sense of the word, and holds secrets that, once unraveled, enthrall any traveler.
Read: "The Sunken Church"
Shivagange
Shivagange can posses as one of the best single day getaways from Bangalore. It is a mountain peak with a distinct shape of a Shivaling. The place is named after the Shiva temple and the nearby spring, 'Ganga'. There are two ways to access the top of the Shivaling; One by a 3 km trek or two by testing skill in rock climbing.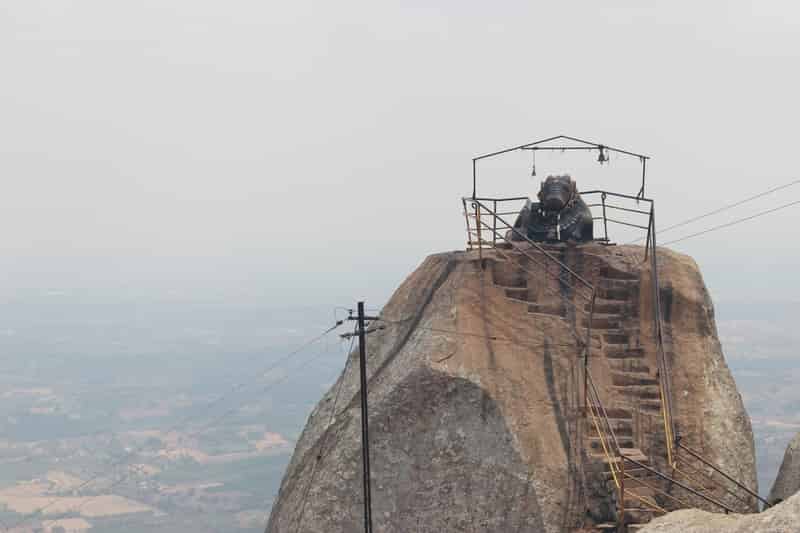 Hassan District
From a floating church to temples that tell stories, the district of Hassan in Karnataka harbors in its hinterland relics of contrasting pasts. By Mary Ann Isaac. The heart of Karnataka brims with temples boasting Hoysala architecture, echoes of Carnatic music, bright flowers waiting to be picked to garland a deity, and the aroma of mouthwatering food.
Read: Halebidu – Belur Circuit
Shravanabela
Doddagaddavalli